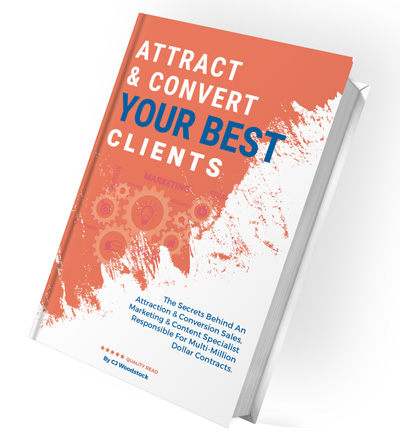 How to Attract & Convert your Best Clients
Grab this free book to get the secrets behind our client attraction system that enabled us to achieve multiple multi-million dollar contracts (this works for all sales, no matter the value)! We also show you how to put your Client attraction, retention and conversion on autopilot.
Automate Using The Best CRM Autoresponder Software For You
What software should you use when you automate and systemise your website and sales email funnel?
Firstly, you have to consider where you are hosting your website to ensure a good loading speed which will help with your SEO. In Australia I recommend Ventra IP. Here is a link if you want to check them out.
For your website, I recommend you create it on an open source platform like WordPress where possible, simply because you then own it and as long as you have hosting for $16-$20 a month, it will stay live.
You can buy templates to use and then it is relatively easy to build out. If you need a hand let us know as we have some fantastic website builders in my network who can help.
When trying to choose the best Autoresponder and CRM for your business, it is tough there are a number of really good systems out there now, and it matters that you make the right choice the first time (unlike myself!)….
….as it can be very expensive to change providers and have to set everything up from scratch again.
I have taken a very long time, and have used many of the platforms listed below in my business over the years and the businesses of my Clients in order to figure all this out…..and that means, now I can make it easier for you!
The best ones available on the market that I would consider are the following.
(I have put some links in here for you – all prices are in USD):
1) Kartra – The silver option lets you mail to up to 12,500 subscribers and is very competitive price wise. It also has a membership site and landing pages built in plus affiliate tracking software, which is very useful and would normally cost extra. This tool allows you to build funnels, memberships sites, affiliate tracking etc. the whole lot for a very decent price.
Kartra kickstarter package $99 with 14 day trial: up to 2,500 subscribers and is only $79 per month using the yearly billing option if you can manage a lump sum payment
Kartra Silver package $199 with 14 day trial: up to 12,500 subscribers and is only $149 per month using the yearly billing option if you can manage a lump sum payment
Kartra is brought to you by the same Company that produced WebinarJam and Everwebinar (one of the most popular webinar services available on the market, so they integrate very well).
2) Active Campaign – Active Campaign is known to be a good system. It integrates well with shopify (an ecommerce shop platform)..…but it is pricey if you have a large number of subscribers.
You can Tag contacts
Set up automated follow-up sequences
Score leads as they move through the Email Sales funnel
Segment subscribers with tags to create a personalized experience for each person
3) Ontraport – $297USD per month – is the Ferrari of Autoresponders and they man that created it is a really decent guy as I have seen him speak personally! It does everything you could possibly want it to do.
There is a lot Ontraport can do that that other systems can't….if you want it all…then this is the one for you however, it may be too much for smaller businesses to navigate.
4) Clickfunnels – It will cost you $97 per month or $297 per month depending upon whether you choose "20k Monthly Visits Plan" or "Etison Suite Plan". There are major differences with both of these plans specifically with the number of funnels, pages and contacts you can create inside your membership area.
You would have to pair this with an email service like Sendgrid which can be free for up to 100 emails a day, but if you want more it costs another $14.95 plus a month.
5) KEAP (lower priced version of Infusionsoft) – This is a good for small businesses…$97 USD a month for 1000 contacts and $30 for every additional 1000 so it becomes pricey if you have a large number of subscribers.
We can get it a bit cheaper for you as we know a certified partner in Australia (so use the contact form to get in touch and we will gladly send you his details). It doesn't have the templated landing pages or upsell and downsell capability (which is fine if you are a coach or consultant rather than an ecommerce provider.
It works well as a CRM, sales tracking tool and email funnel builder and you can track outstanding invoices. You can't easily integrate it with Clickfunnels anymore as they see each other as competitors.
 6) Kajabi Growth – $159 USD for 25,000 contacts on Annual billing. This also has all the great components that you would want ie. Membership site etc.
In Kajabi, you can easily create sales and marketing funnels where you can sell your courses to a hungry audience that wants to learn from you. And, if you don't want to sell courses – and want to create content such videos and blog posts at your own pace without bundling it up, you can also create membership sites and ask your audience to pay a recurring fee every month to access your content.
It's important to note that while Kajabi is excellent for selling educational content, it's limited to just that. If you plan to sell a wider variety of products, or are interested in ecommerce, a software with a funnel so you can upsell and downsell is better suited for you.
Once you have chosen your platform, you then need to plan and create a system to ensure you are building a relationship with your Customers continuously.
Do this well the first time and you can make small tweeks but overall it then runs on autopilot and that means you have freedom to work on other parts of the business.
Just as an aside, if you want a credible 'done for you' Social Media service, I suggest you try Social Media Worldwide.
I sincerely hope this helps make your life a little easier….we are here for you if you need a hand or some advice along the way.
There is a process to write out copy that actually makes sense and converts. If you require assistance with this, get in touch as we would be more than happy to have a FREE 30 min no obligation chat to you about it.

There is no hard sell, just a casual chat with some great recommendations about your Sales and Marketing strategy. 😉
As a service based business, to ensure you can prove that what you are doing for your Clients or your business or team that you…