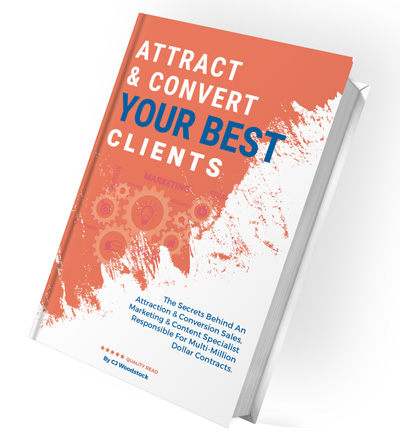 How to Attract & Convert your Best Clients
Grab this free book to get the secrets behind our client attraction system that enabled us to achieve multiple multi-million dollar contracts (this works for all sales, no matter the value)! We also show you how to put your Client attraction, retention and conversion on autopilot.
As a service based business, to ensure you can prove that what you are doing for your Clients or your business or team that you are managing, is actually effective, you need to prove that you are generating some kind of ROI or Return On Investment for them.
What is an ROI?
Well, to explain that, we first need to understand what is meant by investment (defined here as an outlay of your cash and/or time).
An investment  example in business could be advertising, the cost of your time and your staff or contractors time, employee training, new technology or software, operational costs and the list goes on.
It's easy to identify investments — the hard part is measuring the impact and benefit of the investment.
Ultimately your investment should be trying to achieve a strategy.
What I mean by this is your strategy might be something like this….
…Upskill and train your sales team and the benefit (or return) is to get more sales for the same investment or cost of paying your sales team.
Benefits (or the return) of this strategy could include more sales, increased customer satisfaction, new customers, customer retention, lowering overall cost per sale and up-sells. There are too many to list but this list gives you a good idea.
Ok, so now how do we actually calculate the ROI?
Why would you want to calculate this….well, this can prove the ROI of your strategy and efforts, rather than not really knowing if it was successful.
We have to use some math here….stay with me, it's actually quite simple! 😉
Take your return and divide it by your investment and, finally, multiply this figure by 100.
It's calculated by taking your benefits, meaning the sum of money your company has gained through your new strategy, and subtract from it the total amount of investment that you've spent to execute the strategy.
Here's a basic example:
Your return is $10 dollars and your investment is $2 dollars. Then the ROI would be 500%.
This is the kind of ROI your Customers want to see when you are a Consultant or a Manager, implementing a new strategy inside a business!
If you want to know more important and game changing strategies like this, make sure you grab a copy of the book 'Secrets of a 7 Figure Deal'
Before I even had a website, I started calling up people I wanted to work for and building a relationship with them. Our product was…